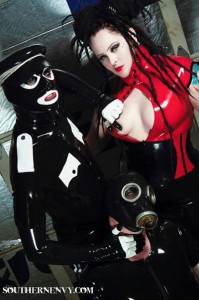 The Vault was founded by Domina Shannon in November of 2012 after a short lived collaboration with another local House of Domination at the time.  Domina Shannon is a revered Dominatrix with over 15 years of experience indulging fetishes and fulfilling fantasies.  Domina Shannon's natural propensity for sharing knowledge has lead Her to the next phase in Her life which includes sharing the wealth of knowledge and experience She has gained over the years.
The Vault is a decadent playground where you are free to explore all of the things you have only dared dream about.  The Dungeon itself is massive and impeccable in appearance; We can accommodate almost any fantasy that you can imagine.  Each of the Ladies at The Vault was specifically chosen to be a part of Our collective for one reason or another and each person brings something different to the table.
The resident Dommes of The Vault are an eclectic group of Women, ranging in appearance, fetishes and lifetime experience.  While We do have a few Mistresses still apprenticing, everyone at The Vault has some kind of prior personal experience with BDSM.  Each of the Ladies at The Vault is being personally mentored by Domina Shannon.  Continued training and education is something we strive to focus on within The Vault Chambers.